12 style essentials that should be in every man's closet.
Tailored Sweatpants
Sweatpants are no longer a sign that you have given up on life, if they fit properly you can compose a comfortable and stylish athleisure style.
Bomber Jacket
One of the most versatile pieces of outwear that a man can own.
Crew Neck Sweater
This is a great in-between icebreaker piece. This is perfect for when its chilly outside but not cold enough to wear a jacket. It's also great for when you want to be a little more formal but not formal enough to wear a suit.
White Sneakers
These are timeless and work with everything.
White Dress Shirt
Name one outfit you can't compose with a white dress shirt…that's right, you can't.
If you're in need of a great white dress shirt that fits perfectly I recommend that you check out Tailor Store. This will deliver custom fit clothing right to your door. You can go through all of their fabrics and once you have chosen one, you can enter their 3D designer to see all of the different styles that you can compose. Once you have the style you want, all you have left to do is submit 3 measurements and then in just a couple of weeks, you'll get a custom fit shirt right at your door. The best part is that if you get a shirt that doesn't fit you well they guarantee that you can return it and they will fix the fit or they will give you a credit so that you can get it tailored on your own.
Make sure you use the special discunt code TMF40.
A Good T-shirt
Make sure that it's a crew neck and that it fits well and you are set to go.
A Watch
Whether it's a super expensive watch or a very affordable one, wearing a watch will always look elegant.
Chukka boot
The great thing about this boot style is that even though they are in style for the fall and winter season, they are actually versatile enough that you can use them in the summer and spring.
Casual Button-Down
This is the perfect option for a day when you don't want to be too formal but you don't want to be too casual either. Make sure that your button down is cropped shorter than the former one and that the style is some sort of flannel, Oxford, or plaid.
A Good Pair of Jeans
If you're only going to have one pair of jeans make sure that they are a dark wash, not light, or black. Also make sure that it doesn't have any holes, tears, and that they are slim or straight fit.
Chino shorts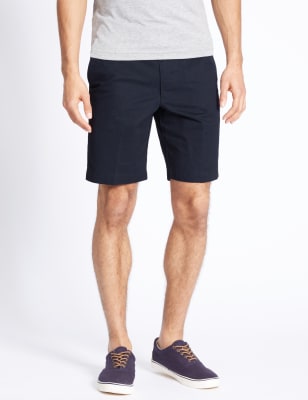 You're not going to be wearing pants all of the time so make sure you have some chino shorts in your closet. Make sure that you stick to the basic khaki and navy in order to make them more versatile.
One Sharp Cut Suit
You need to make sure that you have one suit in your closet.